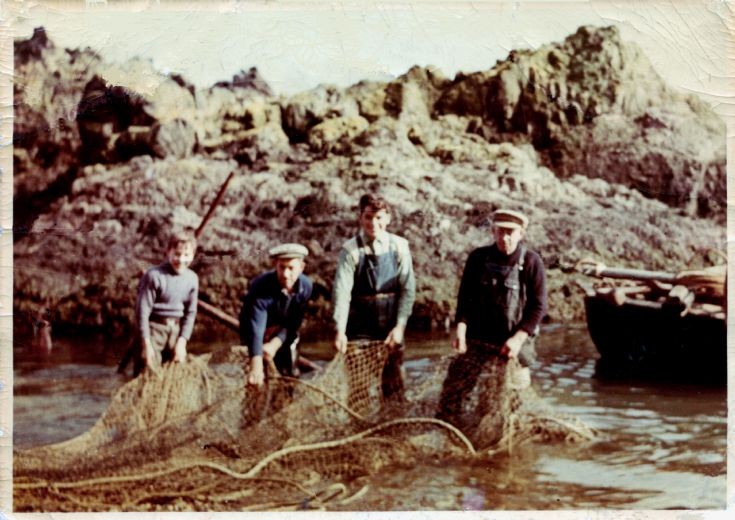 The Avoch Image Library
Samon Fishing 1957
Avoch men at the Salmon fishing at Castle Craig near Nigg.
Alister/Ali Jack, my father Jimmy Jack, Jimmy Alec Patience(Mericen) and Donald Skinner.
This fishing station was completly isolated from the outside world.
The bothy where the men lived was at the bottom of a cliff right on the seashore, with a well providing fresh water, with a Raeburn stove for cooking, and Tilley lamps for lighting.
They were brought there by boat from Cromarty on a Monday morning, and were only visited in the course of the week to collect any salmon they might have caught, having indicated this by raising a white flag which could be seen from Cromarty.
The nets used were called bag nets, which were large cages about the size of a small caravan. These were suspended under water, with a verical stretch of net running to the shore, and several of these were positioned in such a way, to catch the fish which had evaded the previous net. Evading they did well, as it was not a particularly lucrative season.
I spent some weeks of that summer there, it was a very passive fishing, with a lot of waiting, and the nets were inspected and emptied only from time to time. I enjoyed looking for crabs and lobsters with Donald Skinner who was very skilled in finding them under the rocks. Less succesful was my search for fossils, and I could only conclude that Hugh Miller had been there before me.
Photo from 1957
Picture added on 25 July 2010 at 17:40
Comments: