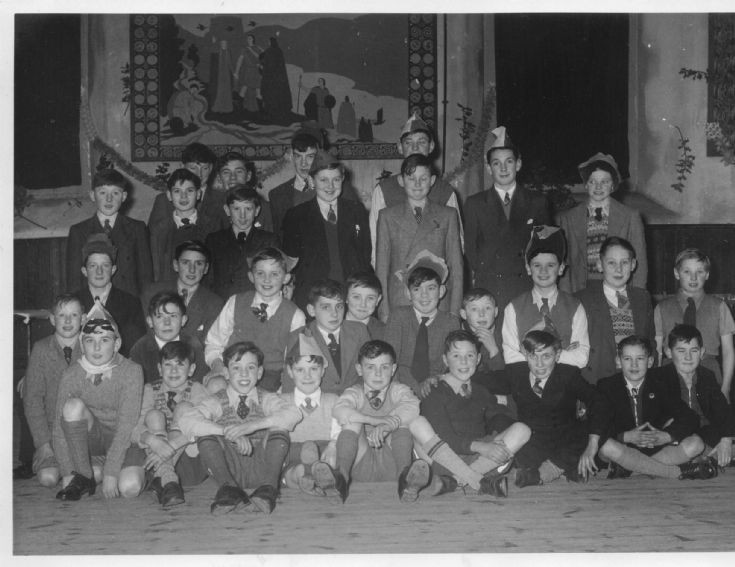 The Avoch Image Library
Avoch Junior Secondary school 1955/53
Avoch Junior Secondary school.
Christmas Party in the Village Hall, which was the old United Free Church Building above the Coronation Park.
The pupils are probably from first, second and third Secondary years......from Avoch and the surrounding areas, Killen, Munlochy and Tore.
I am not sure if the girls were photographed separately, or whether they had a separate venue.
Two on the back row which I know are Hugh Thompson from Munlochy and big Donald Jack.
On the second row from the front, and third from the right is Adam Ritchie, John MacLeman, Lewis Russell,and Hugh Patience. The last three on this row are Raymond Morrison, Sandy Jack and Duncan Cameron who game over to the school from Tore.
Front row, Donnie Forsyth, William Jack, John Main Jack, David Skinner, Robert Jack and George MacLeman. The last two are Dan MacLeman and James Jack who both lived in Henrietta.
Photo from 1955/53
Of particular interest on the wall, is one of six murals, which hung between the windows, each more than two meters long , part of a series depicting Celtic legendary scenes.
I will come back with some other images of these murals, then perhaps we can determine their origin and their mysterious disappearance from the Village Hall.
Picture added on 14 July 2010 at 05:40